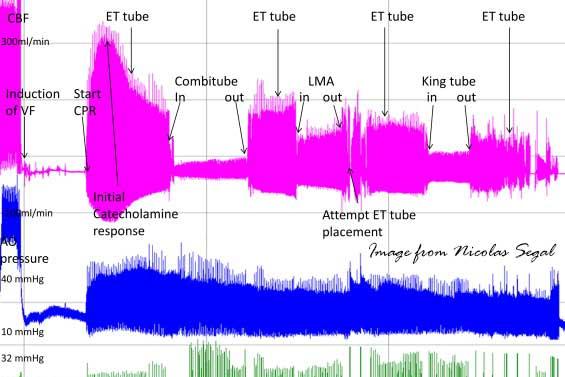 A big thanks to Darin Abbey, Clinical Nurse Educator at Nanaimo Regional General Hospital ER for bringing this article to our attention. Darin is an ACLS instructor who teaches for SkillStat.
Supraglottic airways (SGA) have gained popularity in the last decade as a rapid way to secure a patients' airway in cardiac arrest with minimal interruptions in CPR. These include the Laryngeal Mask Airway (LMA), The King Tube, and the Combitube. We teach the use of these airways in all of our ACLS and PALS courses at SkillStat. The ILCOR guidelines of 2005 identified intubation as a major source of interruption in CPR and evidence was strong that supraglottic airways ventilate lungs well in arrested patients with much less interruption in CPR being required during their placement. In a recent issue of Resuscitation (March 28, 2012) a study looking at the impact of SGA's on carotid blood flow (CBF) raised interesting questions as to whether these airways may impact CBF and be harmful; Impairment of carotid artery blood flow by supraglottic airway use in a swine model of cardiac arrest.
Methods: 9 female pigs had VF induced, left with no CPR for first 4 minutes then CPR performed for 3-6 minute intervals with a different airway placed during each interval. First endotracheal tube, followed by  3minutes with each SGA in a random order. Carotid arteriograms were performed with SGA's in place post mortem.
Results: Median CBF
ETT: 21 ml/min
King: 10 ml/min
LMA: 10 ml/min
Combitube: 5 ml/min
Arteriograms showed that with each SGA there was compression of both internal and external carotids.
Conclusions: All three SGA's caused significant decreases in CBF in this porcine cardiac arrest model.
So yes we do need to do research in humans to see if this class of airway devices is beneficial or harmful to outcomes of cardiac arrest, and more specifically do they interfere with CBF in humans also.