SEPSA
The Safe and Effective Procedural Sedation and Analgesia (SEPSA) workshop, is intended for healthcare providers who make use of procedural sedation in a hospital or non-hospital setting. This workshop combines an introduction to ECG interpretation, procedural sedation pharmacodynamics, BC procedural sedation standards and airway management with practice exercises, case studies and simulations.
See Available Dates
Pre-Requisites: Professional registration or student status as an MD, DDS, RN, Paramedic, RT, ND or Military QL 5
SEPSA
Certified
A team of accredited trainers facilitating an engaging course.
Recommended
Peer reviewed and recommended.
Essential
Develop agile skills and a solid understanding.
Not Just Another Sedation Course
Learn to administer sedatives or dissociative agents with or without analgesics, safely and effectively.
ECG Interpretation
Procedural Sedation
Pharmacodynamics
BC Sedation Standards
Airway Management and more…
Non-invasive and minimally invasive procedures performed outside of the operating room has grown exponentially over the last several decades. Sedation, analgesia, or both may be needed for many of these interventional or diagnostic procedures. Medications that elicit pharmacologic effects – anxiolysis, amnesia, or analgesia – provide patient comfort during various procedures. Understanding the efficacy and safe administration of these agents is essential to the practitioner performing interventional procedures.
Procedural Sedation and Analgesia (PSA) is a technique of administering sedatives or dissociative agents with or without analgesics to induce a state that improves a patient's tolerance for unpleasant procedures. The goal of PSA is to produce this depressed level of consciousness without compromising a patient's ability to maintain their airway control.
For more information you can download our SEPSA Course Outline or the SEPSA Course Manual.
To have SEPSA offered at your hospital or clinic, please contact us by email or by phone (604.990.0063).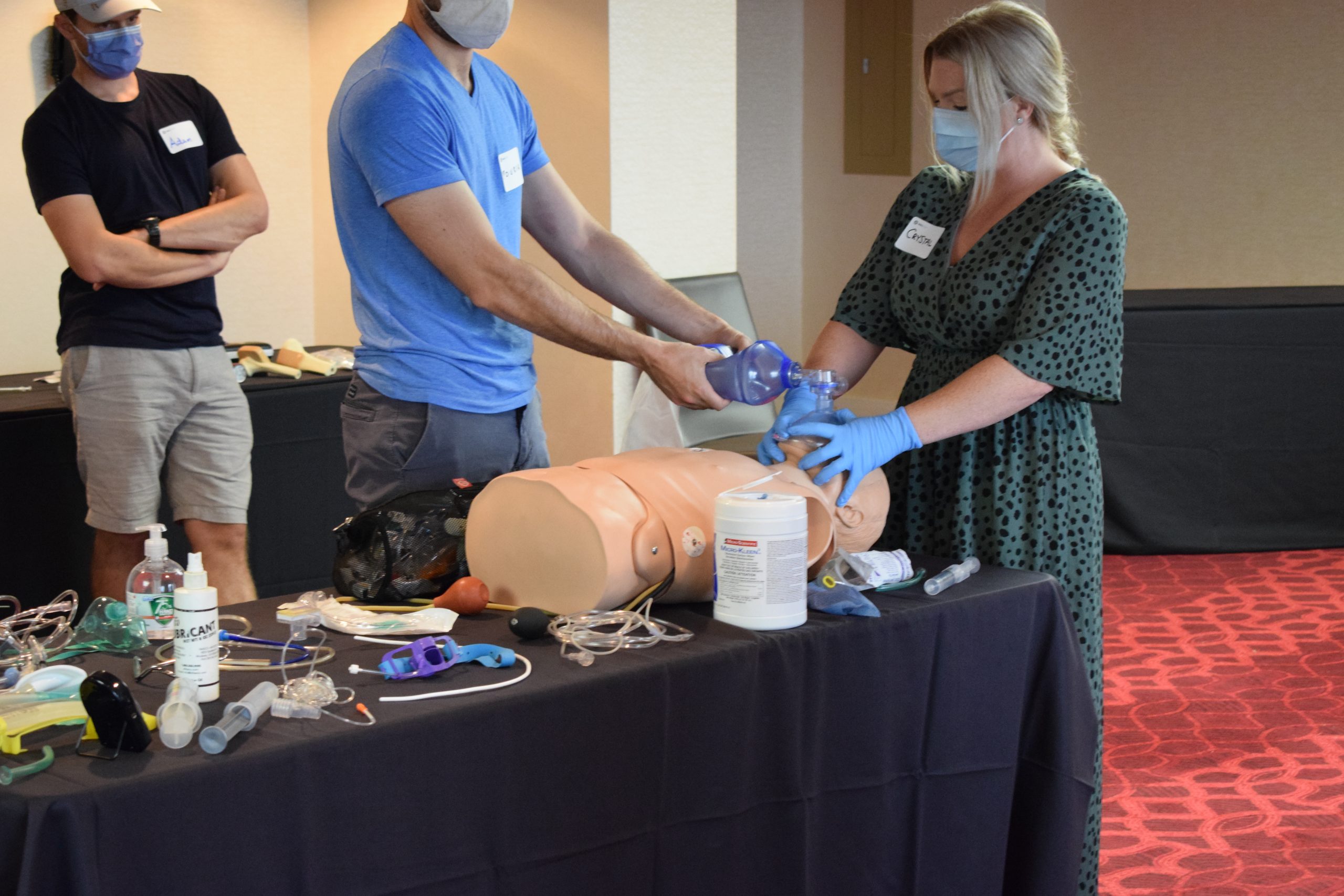 What you'll learn
Pharmacodynamics
Explore strategies to safely and effectively use the synergistic affects of different drugs
ECG Interpretation
If you need to brush up on your rhythms we offer a short review as part of this course.
PETCO2
Optional review to better understand patient end-tidal co2 waveforms.
Understand
Explanations of the rationales and research behind the skills you are learning.
Customized
Stories and examples customized to fit you and your role.
Foundations
Simple, flexible learning models that you can build on.
What you'll receive
Pre-Course Package
An electronic version of the manual comes with your confirmation email to get started while you wait for the paper copy to arrive.
Course Completion Card
Upon completion of the course and proof of a current ACLS or PALS certificate we will issue a Course Completion Card (good for 2 years).
SkillStat Guarantee
You are welcome to repeat the same course for FREE within a YEAR of your original course completion date!
"Excellent content and teaching tailored to each learners work environment and skill set."- Kate (Jan 2022)
Jan 13, 2022
SEPSA
"Excellent relevant course delivered in a captivating and efficient manner." - Khadija (Jan 2022)
Jan 13, 2022
SEPSA
"Stimulating topics as well mostly because it was so practical. Walking through real scenarios helps in decision making in real life. Revisiting the pharmacodynamics of the medications we use is very helpful because it translates to real life usage." - Jason (June 2021)
June 29, 2021
SEPSA
"clear, direct approach to teaching. entertaining and educational. open conversation with real life anecdotes was v. helpful" - Eleanor (Mar 2021)
Mar 13, 2021
SEPSA
"The entire course was relevant to our non-hospital surgery center. Excellent content & instruction. Practical & thorough." - A. Denton
Nov 3, 2019
SEPSA
"It was more fun/engaging that I thought!" - Taryn
Nov 14, 2019
SEPSA
"Very engaging + concise. Would recommend this class. Thank you!" - Megan
Sept 19, 2019
SEPSA
"I've been pretty nervous thinking about this new job, but this course really helped alleviate some of that, so thank you!" - Randi
July 18, 2019
SEPSA
"I really liked it. I feel that the content was great. Most of all the teacher was supportive and I like the hands-on practice such as with a small doll and different airways. I am motivated to apply the skills at work. I would definitely recommend this course to family/friends." - Harjot
May 16, 2019
SEPSA
"I thought the course was great. Tailored to our needs. He was a great instructor. Very practical delivery of info." - Cindy
May 11, 2019
SEPSA
Book Your Course!
SEPSA
LIVE ONLINE
IN PERSON
ECG 360
NEW! Check out our ECG 360 [Early Access Alpha] Click Here!
See More Dates